The 2023 pre-jury consists of:
Andrey "Drosha" Grekhov – Winner of Juste Debout 2012, choreographer, dancer, teacher and battle judge
Astrid Boons – Performer and choreographer
Angela Herenda – Choreographer, dance teacher, dancer
Shailesh Bahoran – Theatre maker, urban dancer, choreographer and artistic director of IRCompany
Mischa van Leeuwen – Founder RIDCC, dancer at Scapino Ballet Rotterdam, choreographer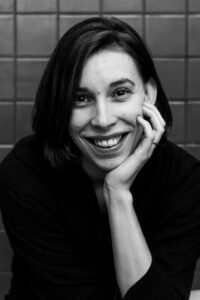 Astrid Boons
Astrid Boons (1988, Belgium), is a choreographer and performer. She is currently a resident choreographer at Korzo in The Hague. As a dancer Astrid worked with Tanztheater Wuppertal Pina Bausch, GöteborgsOperans Danskompani, Nederlands Dans Theater 2, Dansgroep Amsterdam, and Dansgroep Krisztina De Châtel. Astrid received the BNG Bank Dance Award and Piket Art Award for choreography. In 2020 she was named artist to watch by NRC newspaper. In 2021, she was nominated for the prestigious Prize of The Netherlands Dance Days for choreography. Her work has been produced by Korzo Theatre, Nederlands Dans Theater, Dance Theater Heidelberg, GöteborgsOperans Danskompani, Conny Janssen Danst, Dans I Nord, among others.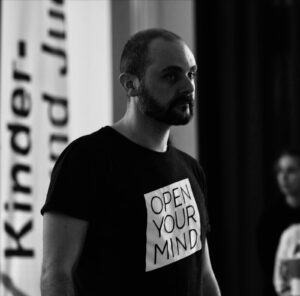 Andrey "Drosha" Grekhov
Immigrated to the Netherlands at the age of 14. Drosha was dancing all his life but started to consciously practice breaking and boogie in 1997 and has devoted his life to the dance and culture ever since. Drosha is known for his innovative style which consist of a lot of street dance influences. For years he studied and practiced different approaches and combinations of styles like popping, house dance, breaking and hip hop. After he finished his study at the academy for industrial design in Eindhoven he had already built up a reputation in the scene and has chosen the life of a professional dancer, teacher and battle judge. Drosha has won the grand slam of dance Juste Debout 2012 in category experimental and the prestigious Prins Bernard Culture award in 2013 for his work in the field of crossovers between street and academical styles, in 2017 he won the prestigious World of Dance prize in again slightly different world of street dance choreography. He has his own company Sample Culture and he is the artistic director of Open Your Mind festival franchise and Urban Dans Dagen. When he is not making or organising you can find him as a lecturer, guest speaker and teacher at dutch art and dance academies where he propogades the power and potentional og hip hop culture.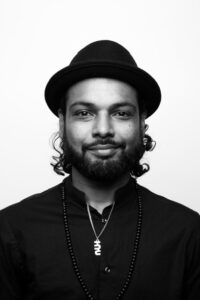 Shailesh Bahoran
Born in Suriname, Shailesh Bahoran is a versatile theatre maker and choreographer, and artistic director of IRCompany (Illusionary Rockaz Company). Besides his work as a theatre maker and choreographer, Bahoran is also an exceptional hip-hop dancer, distinguished by his phenomenal technique, originality and expressiveness. Bahoran also works as a personal coach with performers and feels a sense of shared responsibility for the development of the Dutch hip-hop and funk scene. Since 2013, Bahoran received grants from Performing Arts Fund NL. In recent years, Bahoran has gone on to work with Dutch National Ballet, Scapino Ballet Rotterdam, ISH Dance Collective, Don't Hit Mama, Conny Janssen Danst, Korzo, Spin Off, the Netherlands Chamber Orchestra and VocaalLAB. He has performed with ISH at the Burning Man Festival in Nevada and on Broadway, New York.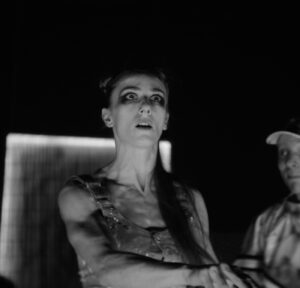 Angela Herenda
Angela Herenda started her dance training at Blagoje Bersa Music School, after a brief involvement with Zadar Dance Ensemble, she continued her education at the Rotterdam Dance Academy, Codarts. After having been a freelance dancer (Andreas Denk, Jens van Daele, Kitt Johnson) and performing with Staatstheater Oldenburg (now TanzMainz) and GöteborgsoperansDansKompani, Angela joined Club Guy & Roni in 2014, where in addition to her work as a performer, she regularly teaches technical and improvisation lessons and choreographs with Hendrik Aerts and Mart van Berckel for the youth group Poetic Disasters Club of Club Guy and Roni.

Former pre-jury members
Maria Chiara Mezzadri  
Matthew Pawlicki-Sinclair
Tim Persent
Dario Tortorelli
Alida Dors
Daan Vervoort
Maya Roest
Floor Eimers