Ruins
Choreography: Rhys Dennis & Waddah Sinada (UK)
Dancers: Rhys Dennis & Waddah Sinada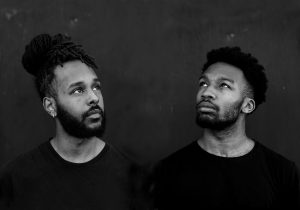 The choreographers
FUBUNATION is a London based collective, founded in 2017 by Rhys Dennis and Waddah Sinada with the vision of adding to the black culture by creating more visibility and representation for dancers of colour in contemporary dance. Their objective is to build more diversity in the audiences that come to theatres and other dance platforms. They aspire to represent their cultural experience as a people in a way which reflects the everyday experiences of all people. Having predominantly worked in film and live-performance, the company embraces collaborations across all art forms in order for the work to be accessible to a wider audience. The company is directed by both Waddah Sinada and Rhys Dennis with aims to display rich and honest work driven by the human experience.
The choreography
This work is a testimony for the complexity of our collective experience which we give a voice to through movement and art. We are deconstructing the power struggle within ourselves and finding the balance between conflict, vulnerability and codependency. Allowing us to own and repair our deeper anxieties that we have learned so well to mask.
What are the highlights from your career up till now?
The FAKI International festival in 2017 (Croatia), working alongside fashion brand Christopher Raeburn in 2019,  the Resolution festival in 2019 (London), being the Movement Director and choreographer for various acclaimed music artists and creating the 'Ruins' series through our own film, photography and live-performance.
Why did you register for RIDCC?
To establish new connections outside the UK and expand our audience.
What do you think RIDCC will bring you?
The chance to build new relationships and create visibility across a new audience. Elevating our work and deepening our practice.
What do you wish to cause with your choreography?
We would like our work to start conversations and open up a dialogue between people.