Relationships
Choreographer: Zhiren Xiao (CN)
Dancers: Zhiren Xiao, Li Mengbo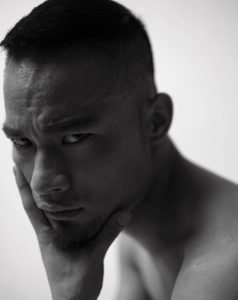 The choreographer
Zhiren loves dancing. After graduated from the university, he joined Beijing LDTX Modern Dance Company (2009-2010), and later Guangdong Modern Dance Company (2011-2017), as a full time dancer working with major programs. At the same time, he was invited as guest dancer of Expression Dance Company in Australia and Y-space Dance Company in Hong Kong. In 2011, he was awarded the scholarship by Asian Culture Council (ACC) to visit and participate in American Dance Festival (ADF) in US, and granted "2011 international choreographer" of the International Choreographers Residency (ICR) program. He won 2nd prize at Hanover, Germany in 32nd international choreography competition. At the 23rd MASDANZA international choreography competition in Spain, Zhiren won the prize 'best choreography' and the jury award.  In 2015, he represented the Modong Conservatory of Music in the modern dance performance of the United Paris Conservatory of Music. He participated in the promotion of modern dance performances and musicians in the society of the Boulogne Conservatory in France from 2016-2018. In the second European Music and Dance Competition in July 2016 and won the second prize.

The choreography
Relationships are the process of transferring emotions, attitudes, facts, beliefs and ideas from one person to another.
What are the highlights from your career up till now?
Loving dancing makes me rethink my life.
Why did you register for RIDCC?
Because this platform is very international and I want to learn more from excellent dancers.
What do you think RIDCC will bring you?
Bring a broader vision of dance art.
What do you wish to cause with your choreography?
A series of thoughts on the relationship between people.