H H H
Choreography: Thibaut Eiferman (FR/US)
Dancers: Steph Amurao, Omri Arviv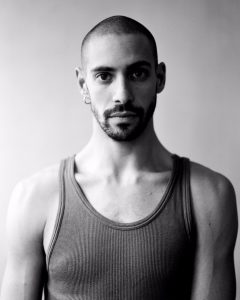 The choreographer
Thibaut Eiferman is currently living and working in Paris. He was a classically trained   at the Jacqueline Kennedy Onassis School of the American Ballet Theater in New York City. Then he joined the Ballet BC in Vancouver, Canada, and toured internationally, performing works by acclaimed choreographers. In 2014 he relocated to Los Angeles to join the Ate9 Dance Company, under the direction of by Danielle Agami. Invited to join the Batsheva Ensemble in 2017, he moved to Israel to perform Ohad Naharin's most renowned works locally and abroad.In Tel Aviv he initiated his first choreographic venture H H H. Since its premiere, it won the first prize in the Machol Shalem International Choreography Competition in Jerusalem. He was also selected to enter the Festival 10 Sentidos in Valencia, the Ballett Gesellschaft's Choreography Competition in Hannover, and the Rotterdam International Duet Choreography Competition. It is being extended to a full evening work, with a premiere in Paris in fall 2019.
Thibaut is a certified teacher of Gaga, teaching most notably at the Paris Opera Ballet.
The choreography
H H H stands for Hand, Heart and Head. Without these we are nothing but skin, flesh, and bones. We are often asked to be like a carcass in order to facilitate a homogenous world. We are taught to simplify ourselves instead of embracing what makes us individuals.
But if they try to empty us, can we fill ourselves more? By going in the opposite direction, can we find freedom? Sometimes we must exaggerate who we are so that the world cannot undo us. We honour this effort. H H H was developed as part of the Batsheva Ensemble annual choreographic workshop.
What are the highlights from your career up till now?
Developing my own voice as a creator and sharing my message.
Why did you register for RIDCC?
I am curious to meet other people in the field and share my work.
What do you think RIDCC will bring you?
Exposure for me and other emerging artists. To broaden my curiosity. To share my work and learn about myself and the piece.
What do you wish to cause with your choreography?
I wish for people to feel joy and freedom and to question themselves if they show the world what makes them ugly.