Maramu
Choreographers: Mattheus Paul van Rossum (NL), Rebecca Laufer (US/IS)
Dancers: Mattheus Paul van Rossum, Rebecca Laufer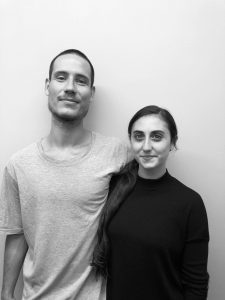 The choreographers
Mattheus Paul van Rossum was born in 1993 and grew up in Den Helder, Holland. He graduated from the Amsterdam School of Arts in 2016. Currently he is based in Israel as a dancer, choreographer and music composer. He has worked with a wide range within the fields of dance, theater and music. He worked with choreographers such as Lotem Regev, Maya Gelfand, and was a soloist for the Israeli Opera under the choreographer Itzik Galilii. He is currently employed with the Avshalom Pollak Dance Company in Tel Aviv.  He worked with physical theater artists such as Jason Danino-Holt. He composed and produced music for the Gerleen Balstra Artistic Director of the Urban Contemporary Department of the Amsterdam school of Arts, Lotem Regev and his own work.
Rebecca Laufer was born in 1994, she grew up in New Jersey and graduated from Point Park University Dance Conservatory in Pittsburgh, USA. Rebecca is a freelance dancer and choreographer based in Tel-Aviv. After finishing a ten month intensive program with the Kibbutz Contemporary Dance Company, she went on to work with choreographers such as Itzik Galili, the Israeli Opera many many other freelance artists. Rebecca is currently giving masterclasses and workshops in Israel and America teaching and choreographing.
The choreography
The piece talks about the bond between two individuals and all that comes with it: the love, the anger, the joy, the pain, the intimacy, the comfort and discord and the ambition to make everything work. By exposing ourselves we invite the viewer to take part in our journey while having the opportunity to reflect and look within himselve. When you strip everything else away, this piece is about love; the intense, unconditional and sometimes irrational need we all have for each other.
What are the highlights from your career up till now?
Their work together was most recently commissioned and performed as part of the prestigious Curtain Up Festival in Israel for two years in a row and was selected for the International Exposure Festival in Suzanne Dellal Centre in Tel Aviv.
Why did you register for RIDCC?
We registered for RIDCC because we have seen the high standard and quality that the festival curates. Having the opportunity to perform our own work within this platform is a true privilege.
What do you think RIDCC will bring you?
RIDCC will bring us the opportunity to share our work with a new audience. It will offer us new insights, a different view on our art. A chance to push our creative boundaries and most of all a chance to challenge and develop ourselves as choreographers.
What do you wish to cause with your choreography?
We wish to create a 12 minutes experience of just drifting away. A moment which is so delicate that it creates a complete focus, where nothing can mean everything. Allowing ourselves to be completely present and dive into this moment together. A space where the viewers and the performers share an experience as one.