COMA
Choreographer: Diego Sinniger de Salas (ES)
Dancers: Diego Sinniger de Salas, Shaquille Benjamin George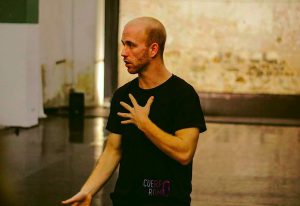 The choreographer
Diego Sinniger Diego Sinniger calls himself an artist "without label". Its main axis is the movement, where he defines himself as a choreographer and dancer who develops his style from a technique he calls "muscular consciousness": a result of the amount of years travelling between different cultures as contemporary dance, hip hop, circus or even martial arts. He began within the urban dance and has been trained in the contemporary dance field in several cities. In the last five years he has been working with different companies such as the Lali Ayguadé Company (U an Mi, Kokoro and Saba), Roser Lopez Espinosa (Novembre),  Ziomara Hormaetxe (Biopiracy) Cia and Cobosmika (O.T.A and Scrakeja't).
The choreography
In In the world we live in, we have to take into account that we no longer make efforts to connect with our emotions. In this duet extract, in the piece COMA, a piece of 50 min with 5 dancers, we focus on a tribal trip of a utopian way to connect with our future emotions. During the course of the piece, the two interpreters look for a way to find the key to the door of their interior, to be able to unleash the emotion that appears at the present moment. They let themselves be carried in an abyss without control or connection with oneself.
What are the highlights from your career up till now?
One of the most relevant aspects of my career is that iI fuse human aspect and the daily stuff (such as traumas, blockage or small emotional states that happened in childhood) with the approach to create a dance work.
Why did you register for RIDCC?
We registered for RIDCC for the possibility of open circuit and visibility at Dutch territory and the North of Europe. From Spain we have heard really good comments about this contest and we want to try to present the work of the company.
What do you think RIDCC will bring you?
We hope RIDCC will bring us many possibilities to work in collaboration with institutions, festivals and others companies. To be able to perform in festivals and share information and experience with different choreographers that are also in this RIDCC edition.
What do you wish to cause with your choreography?
I like to think than the public can travel when they see a dance work, as if it were a movie, to be able to disconnect from the reality. From there we want to let yourself be carried away by the infinite imaginative and emotional possibilities that can offer you the possibility of seeing a live work, not only with the movement but also with the set of all the people who work in the performance, from the movement, the dramaturgy, the sound, the lights, or simply the images that are installed during the work.