Mermaids
Choreographer: Dereck Cayla (FR)
Dancers: Dereck Cayla, Victor Callens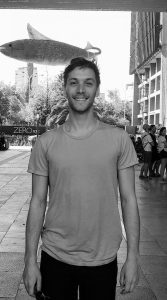 The choreographer
Dereck Cayla is a French dancer/choreographer based in Amsterdam. He graduated in 2008 from the Conservatoire National de Musique et the Danse de Paris. In 2009 he joined ICKamsterdam under the artistic direction of Pieter C. Scholten and Emio Greco. He worked with interesting artists such as: Nicole Beutler, Andrea Božić and Robyn Orlin. As a dancer of the company, Dereck was asked to choreograph 4 short solos, which were used in the production You/Paradiso, La Commedia, Addio alla fine. Dereck is now developing his own research and he is working on a multidisciplinary project named Mermaids. He is interested in using physical limitation to further develop movement based choreography and inspired by the myth of the Mermaid.  
The choreography
The duet follows the path of two bodies towards their own pulsation. This initiatory path, made possible by dance, reconnects us to a deep nature. It is inspired by the hybrid of nature and human that Mermaids can represent. Chris Watson's sound compositions conjure up an inner world as well as the vastness of spaces. It is the same connection that lives in the dancers: their first pulsation is explored at the quasi-cellular level. The infinitely small and the infinitely large meet in a common vibration.
What are the highlights from your career up till now?
Being a dancer at ICKamsterdam. Dancing and touring the duet Rocco (Emio Greco/ P.C. Scholten) around the world. Dancing with Ballet National de Marseille. Performing in Robyn Orlin's piece. Dancing, acting and choreographing for the film Mermaids, on a way to dance by Pierre Bessette.
Why did you register for RIDCC?
In order to show the duet Mermaids and meet with an audience.
What do you think RIDCC will bring you?
I think it can help me to meet other artists and create exchanges about dance. It's an opportunity to make my work visible and maybe to open doors too. A chance to express what dance is to me and encounter with new spheres.
What do you wish to cause with your choreography?
I wish I'll get the opportunity to continue developing my work and make the duet grow to it's full potential. I hope to share a sense of oneness, connectedness with the public, I want to embody dance as an experience. Mermaids is an ode to life.