Beast without Beauty
Choreographer: Carlo Massari (IT)
Dancers: Carlo Massari, Emanuele Rosa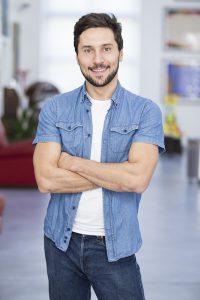 The choreographer
Eclectic creator and performer, eternally in the search and mix of new languages, who entered very young in the artistic world with the study of dance, skating, artistic gymnastics, martial arts, piano, singing and drama. In 2000 Carlo began his professional career at the Teatro dell'Argine. The  collaboration with the Teatro Moline, the Teatro Limonaia, the OTE, the Biennale di Venezia, the National Theater Center, the Ramm and the Bauci Teatro followed. Different and multidisciplinary influences over the years: from opera and musical with the Teatro Comunale of Bologna, Lucio Dalla, the Compagnia della Rancia and many others. Since 2011 he is also co-founder of the international dance company C&C.
The choreography
The irreverent, cynical study on the archetypes of human misery, the non-expressivity and  the despicable cruelty of interpersonal relations.  An aristocratic depraved game of romance and tyranny. A hidden violence, kept quiet, pastel coloured, that hopelessly leads to massacre and extinction. An authentic dive into the non-sense. A black irony as a counterpoint to the paleness of the faces. A fascination in the absurdity of the scenes, in the estrangement from the human involvement into actions and facts. Lifeless figures, exhausted and dehumanized, like at the end of a long war, becoming cynical and opportunist in front of death and betraying their playmates.
What are the highlights from your career up till now?
The foundation of C&C Company and the consequently creation of the multi-awarded shows among which: Maria Addolorata ('Jury Award' Hiver Oclytes/Les Hivernales FR, '2nd Prize' International Choreographers Competition Hannover D, '2nd Prize' Zawirowania Dance competition PL, 'Audience Award' Konzert Theater Berne CH, 'Finalist' Machol Shalem Dance Competition IL, , '2nd Prize' Corto in Danza IT, 'Palco Aperto' IT), Tristissimo ('Special Mention' Premio Roma Danza IT, 'Jury prize' Les Lendemains qui Dansent '16 FR ) and Beast without Beauty ('Jury Prize' Prospettiva Danza Teatro '17, 'Jury Prize' Direzioni Altre '18, 'Jury and Audience Prize" CrashTest '18).
Why did you register for RIDCC?
Because I think this is one of the rare professional opportunities to exhibit my work and have different points of view of it. I also believe in the constant research and evolution of news languages of movement and this, I think,it is an occasion to discover the others.
What do you think RIDCC will bring you?
The opportunity to show my work, meet new artists and languages, meet professionals operators and, why not, be supported in a new creation.
What do you wish to cause with your choreography?
I hope to invite the audience to reflect (with irony) at the power mechanisms of the contemporary social issue. I constantly try to use the dance as a language, to communicate my point of view about the present, so I hope to have the opportunity to touch and give a "question mark" to someone…