The Gyre
Choreographers: Angela Rabaglio (CH) & Micaël Florentz (FR)
Dancers: Angela Rabaglio & Micaël Florentz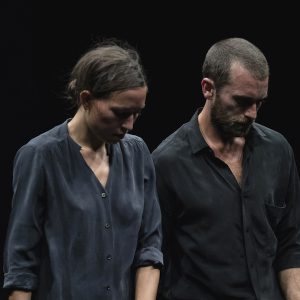 The choreographers
Based in Brussels, Tumbleweed is a collaboration between the Swiss choreographer and dancer Angela Rabaglio and French choreographer/dancer and musician Micaël Florentz. Both were brought through different ways to the field of choreography and complete each other with their respective backgrounds. They founded Tumbleweed in 2017. The Gyre is their first production. It defines already extensively the choreographers' interests and ambitions: they develop a movement language inspired by their travels, by science, nature and philosophy.
Angela finished her education in 2013 at the AHK in Amsterdam (MTD). Wind-up birds and polaroids was her first solo work. She performed at numerous festivals in Europe and received several prizes. She has been dancing among others for the Company Alias, Cie Ici'Bas, Mitia Fedotenko, Itamar Serussi, Ingrid Berger Myhre and LaborGras.
Micaël comes from a musical background. Since 2014 he has dived into a profound physical research and has developed his background in dance through autodidact training.
The  choreography
The Gyre is a duet evolving from one basic action: walking.
All matter is vibration and subject to change. An endless amount of possible forms arise and collapse from this incessant flux, conducted by an urgent need to exist and transmit.
Gravitating around one shared central point. Walking accelerates into a whirling, fathoming the mechanics of a relationship. Persistence and steady transformation unfold into a rigorous, yet fragile complementary score. In every instant of a turn, the two performers drift in and out of each other. The distinct lines and contours of the bodies blur delicately into one.
What are the highlights from your career up till now?
The Gyre is our first production. The piece has been programmed in over 10 different countries. It has won the Distribution Price of the French Network 'Les Petites Scènes Ouvertes'.

Why did you register for RIDCC?
We believe that this piece has a strong and unique value in the performing arts scene, that we would like to share with the dutch public. Further, we are continuously looking for expanding our network and reaching out to new partners and collaborations.

What do you think RIDCC will bring you?
We hope to extend the visibility of our work and to receive some kind of support for the future productions of our company. The Gyre is our first creation and it is very important to us to establish good and long-term collaborations for the future.
What do you wish to cause with your choreography?
This piece is a like trip, for us performers, as well as for the public. Articulated through a precise and non-academic language, it affects the observer physically, and creates space and time for her/him to dive into its own imagination.
Having performed this piece in many different cultural and political contexts and locations (museum or gallery space, outside on the street, traditional theaters), we were amazed by the diversity of reactions and personal echoes, evoked by our work and we hope to continue triggering something unique in each spectator.