Grayscale
Choreographers: Anastasia Belyaeva (RU), Justin de Jager (NL)
Dancers: Anastasia Belyaeva, Justin de Jager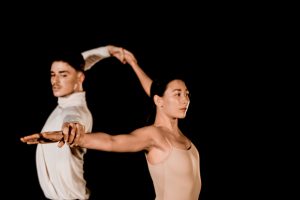 The choreographer
Anastasia is an Amsterdam based Russian dancer who has been raised with dance since she was 6 years old. After 16 years of training in different environments, Anastasia developed her own movement aesthetics and is now focusing on bringing her choreographic expressions to life at the theatre.
Justin is an Amsterdam based dancer. He started as a break dancer but got himself into contemporary dance pretty fast afterwards. Now he is mostly focusing on developing his own movement language and establishing himself as an emerging choreographer. Anastasia and Justin met each other while dancing for the same choreographer in the Netherlands.
The choreography
Grayscale invites you into a realm where one universe meets another. There are millions of possible ways how two energies can interact with one another, creating dynamic mixtures of serene sensations. However there is only one formula which is so precise that everything becomes one infinite space, telling an abstract story about the connection between two bodies.
What are the highlights from your career up till now?
To win 1st prize at AmsterDans 2019 in the category 'emerging duets'.
Why did you register for RIDCC?
As from the very beginning of our collaboration the main goal was and remains – to share our art and vision. RIDCC is a platform where we believe choreographers manifest their voice.
What do you think RIDCC will bring you?
We are excited to embrace the unforgettable experience of sharing the big stage with numerous talents of this world. We are looking forward to building new connections with other professionals from the industry and likeminded artists. And we hope our movement aesthetics to be recognized and to be given an opportunity spread it to a broader audience in Europe and around the globe.
What do you wish to cause with your choreography?
A hypnotic feeling caused by a never ending narrative between two bodies.