Due to medical reasons, Cecilia Moisio's and Ineke Vandoorn's performance 'I Can See Myself Through Your Eyes' has been withdrawn from the competition.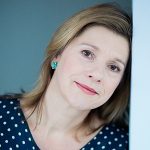 Ineke Vandoorn (the Netherlands) is described by De Volkskrant as 'the adventurer among the Dutch jazz singers'. She combines an expressive lyrical style of singing with vibrant improvisations in a personal style. Ineke released 13 CD's with original work, collaborated with the Dutch Metropole Orchestra and the Dutch Chamber Choir and performed in clubs and on major festivals throughout Europe, Canada and Asia. In 2001 she won the Dutch Edison Award.
The Finnish Cecilia Moisio is a choreographer, director and performer based in the Netherlands. She won the Prize of The Dutch Dance Days in Maastricht as an upcoming choreographer. Previously she has also been nominated for the same price in 2013, for the BNG Theater maker prize in 2011 and twice for the VSCD dance prize- 'the swan' for best dancer of the year. Her over 25 works have been performed more than 15 countries worldwide.