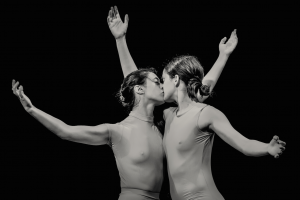 RIDCC, the platform for choreographic talent, and the Holland Dance Festival, the only international dance biennial in the Netherlands, are pleased to announce their collaboration! With this collaboration, both organizations will share knowledge with each other and further connect the dance sector by giving talented choreographers the opportunity.
"We believe that we can do more for the dance field by working together, sharing knowledge and making connections. HDF has been committed to dance for many years. We admire this and, as a young organization, are grateful that we can use their expertise in the field of marketing and communication and at the same time act as a sounding board for our festival. We hope to offer choreographic talent the support it deserves." said Maya Roest and Mischa van Leeuwen, initiators and artistic leaders of RIDCC.
RIDCC is a springboard for choreographic talent. RIDCC unites the dance field, offers coaching, master classes, network and above all concrete opportunities in the form of Awards. The choreography competition is central at the annual festival of RIDCC in Theater Rotterdam. Sixteen selected choreographers will receive to opportunity to perform their duet and have a chance to win the XL Production Award, the audience award and one of the 10 Partner Awards. RIDCC also offers a program in which choreographic talent, programmers and artistic leaders come together, enter into conversation with each other and inspire and challenge each other based on the conviction that a professional, diverse and self-developing dance art contributes to a healthy and happy society.
"The support of a new international choreography competition fits in perfectly with the widely experienced assignment and mission of Holland Dance Festival. Scouting for talent and making it visible is what we have in common with the RIDCC organization. Moreover, we believe it is important that the expertise acquired over many years in promoting and presenting dance can be shared with a young organization. Our knowledge and experience benefits this special initiative of dancers Maya Roest and Mischa van Leeuwen." said Samuel Wuersten, Artistic and General Director of the Holland Dance Festival.
RIDCC 2021
RIDCC offers you the chance to see up-and-coming top talent from all over the world in Theater Rotterdam. During the preliminary rounds on 24 and 25 June you will see the 16 selected choreographies in all kinds of dance styles. The grand final will take place on Saturday, June 26. The selected choreographies will be shown one more time in the main hall of Theater Rotterdam during the festive finale. A renowned jury decides who wins the XL Production Award, RIDCC partners choose the winners of the Partner Awards and the public decides who goes home that evening with the Audience Award.